PAINT PROTECTION
Ceramic Pro is the number one nano-ceramic coating for paint protection. We have various formulas for specialized used when coating paint. These coatings are specially formulated depending if they are going to be used as a base coat, top gloss coat or for yearly renewal. See below each of the products mentioned in the video for their characteristics.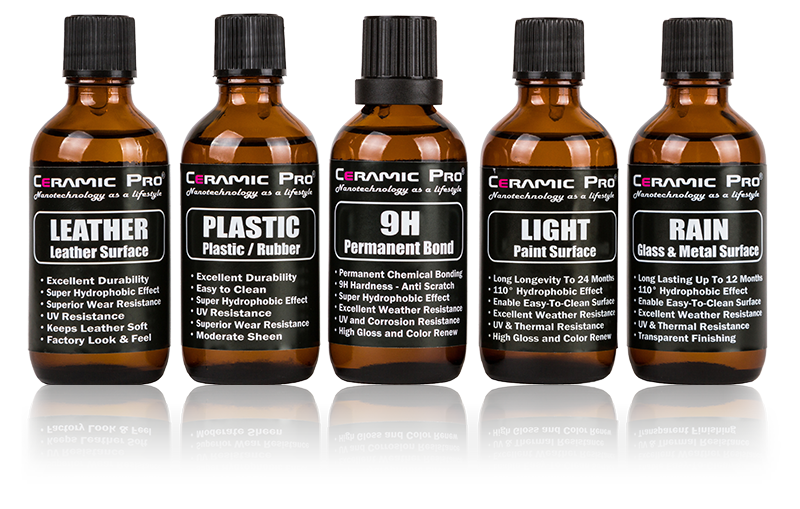 ---
CERAMIC PRO 9H
Ceramic Pro 9H
Ceramic Pro 9H forms a permanent bond with the surface and will not wash off or break down. Ceramic Pro 9H can only be removed by abrasion. It is a highly durable protective coating that protects your paintwork from damaging contaminants. 9H can be applied in multiple layers which means the thickness of the coating can be increased with additional layers allowing a thicker/harder coating with improved scratch resistance.
Longevity 1-30 years
Scratch Resistance (Above 9H)
Super Hydrophobic Effect
Weather & UV Resistance
Thermal Resistance (up to 1200°C)
Anti-Graffiti
Advanced Chemical Resistance
Oxidation & Corrosion Resistant
High Gloss Finish
CERAMIC PRO LIGHT
Light allows the surface to stay cleaner longer as dirt and grime will not stick to it. The super hydrophobic effect of the coating will cause water to bead up and roll of the surface along with any dirt and grime. Light is usually applied over 9H in the layering process. Though not as durable as 9H, it can also be applied on its own. Light also enhances gloss depth further on all painted surfaces for that wet look that is often hard to attain with synthetic waxes.
Super Hydrophobic Effect
Weather & UV Resistance
High Gloss Finish
Anti-Graffiti
Advanced Chemical Resistance
Oxidation & Corrosion Resistance
CERAMIC PRO SPORT
Commonly used on surfaces previously treated with CP 9H or CP Light in order to refresh their hydrophobic and UV resistant properties but can also be used as a 6-12 months stand-alone coating.
12 months
Easy to Apply
Super Hydrophobic Effect
Self-cleaning Effect
Chemical Resistance
UV Resistance
Prevents Water Spotting
High Gloss Finish
CERAMIC PRO STRONG
Strong is our industrial product and will work great on painted surfaces where protection is more important than flawless finish. Strong has similar characteristics to 9H but creates a thicker layer once applied.
Longevity 1-30 years
Scratch Resistance (Above 9H)
Super Hydrophobic Effect
Weather & UV Resistance
Thermal Resistance (up to 2200°C)
Anti-Graffiti
Advanced Chemical Resistance
Oxidation & Corrosion Resistant